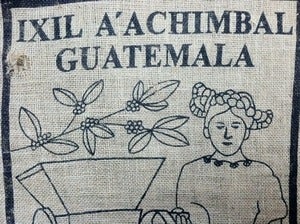 $

10.30
Guatemala Trapichitos comes to us from the Ixil Village which lies more than 4,600 ft above sea level. The climate and volcanic soil provide perfect growing conditions for the complex, balanced flavors. Strong notes of caramel and milk chocolate are complimented by a creamy body and a refreshing orange peel finish.
The verdant beauty of the cordillera de los cuchumatanes in the highlands of Guatemala belies the tragedies that occurred there during the country's 36-year civil war. During this period, indigenous Mayan communities suspected of supporting leftist guerillas were targeted in a "scorched earth" campaign that resulted in untold numbers of deaths and disappearances. The Ixil Triangle region witnessed some of the worst atrocities, and those who survived often were forced to flee their homes in search of refuge.
After the signing of peace accords in 1996, the refugees began returning to what remained of their communities. In the Ixil village of Trapichitos located in the municipality of Nebaj, 85 families discovered that the new government did not recognize their ownership of the land. They squeezed on to 25 acres and spent several years trying to acquire more land to farm. In late 2000 they secured a loan to buy 635 acres to grow bananas, lemons, oranges, and coffee. The coffee is passive organic, hand-picked, hand-sorted for defect, and sun-dried on raised wooden racks.